NOTATIONAL VELOCITY IS OPEN SOURCE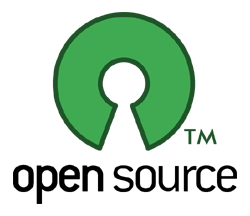 HOW IT WORKS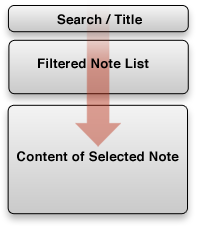 プログラムの使用
The same area is used both for creating notes and searching. I.e., in the process of entering the title for a new note, related notes appear below, letting users file information there if they choose. Likewise, if a search reveals nothing, one need simply press return to create a note with the appropriate title.
If a note's title starts with the search term(s), that title will be "auto-completed". This selects the note and consequently displays it. Correspondingly, selecting a note places its title in the search area (De-selecting the note restores the search terms).
To create a new note, just type its title and press return. Edit the note as needed in the bottom pane.
To view or edit an existing note
, type one or more words contained in its body or title. Reveal a note's content by using the up/down arrow keys to select it.
To make good use of NV, try to maintain one detail/fact/item per note. Notational Velocity's strength, note-filtering, is diminished when only a few notes contain most of the content in the database.
Example (note the brevity and specificity of the body):
Title: How to cook with cornsalt
Body: Buy box of Arm & Hammer raw cornsalt. Sprinkle on poultry before broiling.
Notational Velocity can search thousands of notes at once and works best when information is distributed.